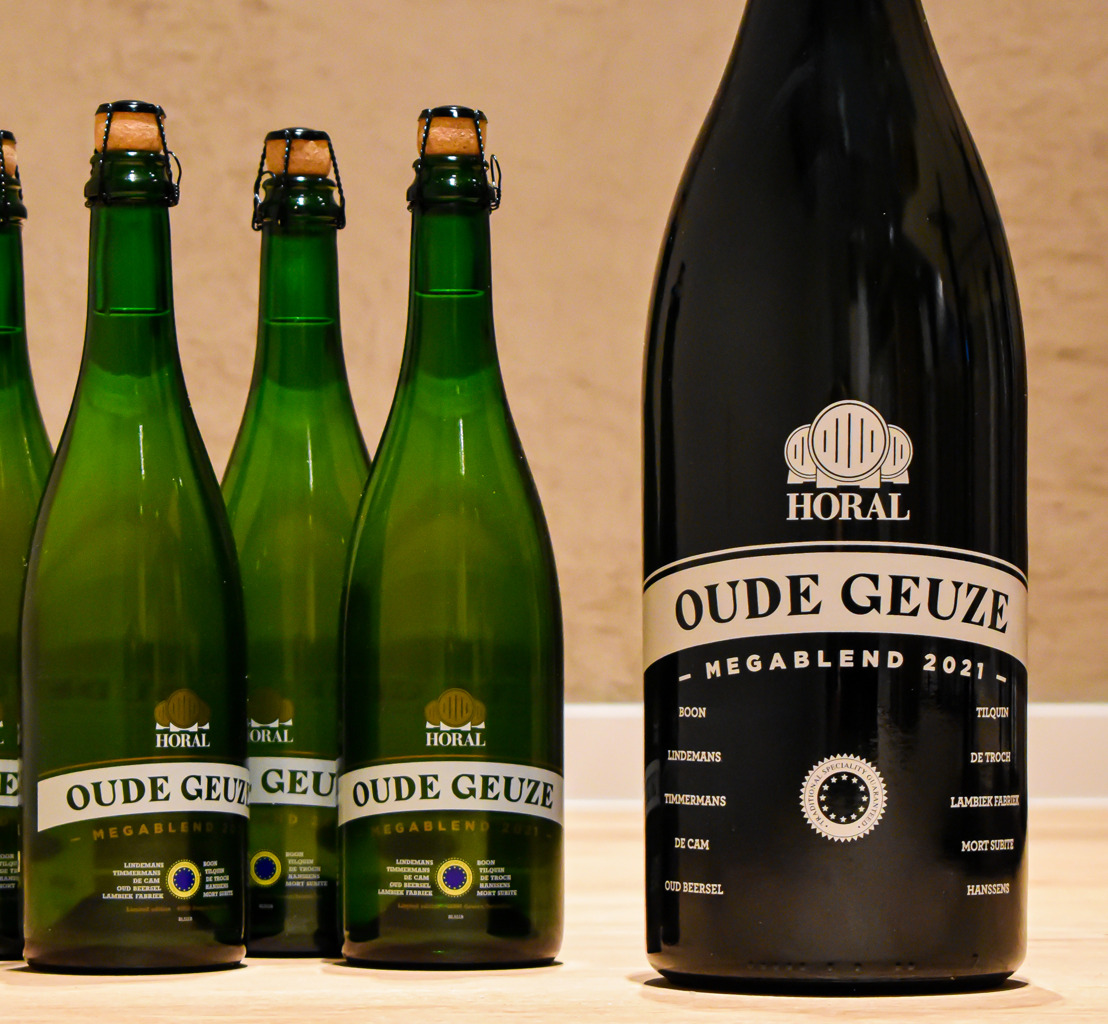 Three Giant 2021 Megablends to be Auctioned for Charity
Friday, November 19, 2021 — This weekend the 10th edition of Brews for New Avenues will take place in Portland (Oregon, USA). Over the years, this event has grown into the largest beer auction in the world. Three HORAL Megablend 2021 jeroboams will also be sold to the highest bidders. All proceeds from these unique 3-litre bottles go to aid programs for young people in need in both Belgium and the United States.
This auction can count on a lot of sympathy in beer enthusiast circles. "Several Belgian brewers have been contributing for years by donating rare bottles that are auctioned for charity. For the first time, the High Council for Artisan Lambic Beers is also participating", explains HORAL chairman Gert Christiaens.
Unique jeroboams
Since 2009, at the occasion of every Toer de Geuze, a special Oude Geuze is bottled that is called the HORAL Megablend. The Megablend 2021 is the first in the row in which all lambic breweries and gueuze blenderies that are members of the Supreme Court participated.
Gert Christiaens: "In addition to the usual 75 cl bottles, we have also filled 20 jeroboams by hand to support charities. Three bottles were sent overseas. We hope that these impressive bottles will raise a nice sum for the good causes."
50 percent of the proceeds will go to the homeless project of the American non-profit organisation New Avenues for Youth. The other half goes to Het Opvanghuis/Le Refuge in Brussels, a non-profit organisation that offers transit shelter and multidisciplinary support to LGBTQI+ youngsters who are dealing with a family breakdown or who do not know where to go to.
HORAL was founded in 1997 and unites most lambic breweries and gueuze blenderies in Flemish and Walloon Brabant. Ten producers are members of HORAL: Boon, De Oude Cam, De Troch, Hanssens, Lambiek Fabriek, Lindemans, Mort Subite, Oud Beersel, Tilquin and Timmermans. The main objective of the association is to promote and protect traditional lambic beers, in particular Oude Geuze and Oude Kriek.
For more information: www.newavenues.org and www.facebook.com/brewsfornewavenues