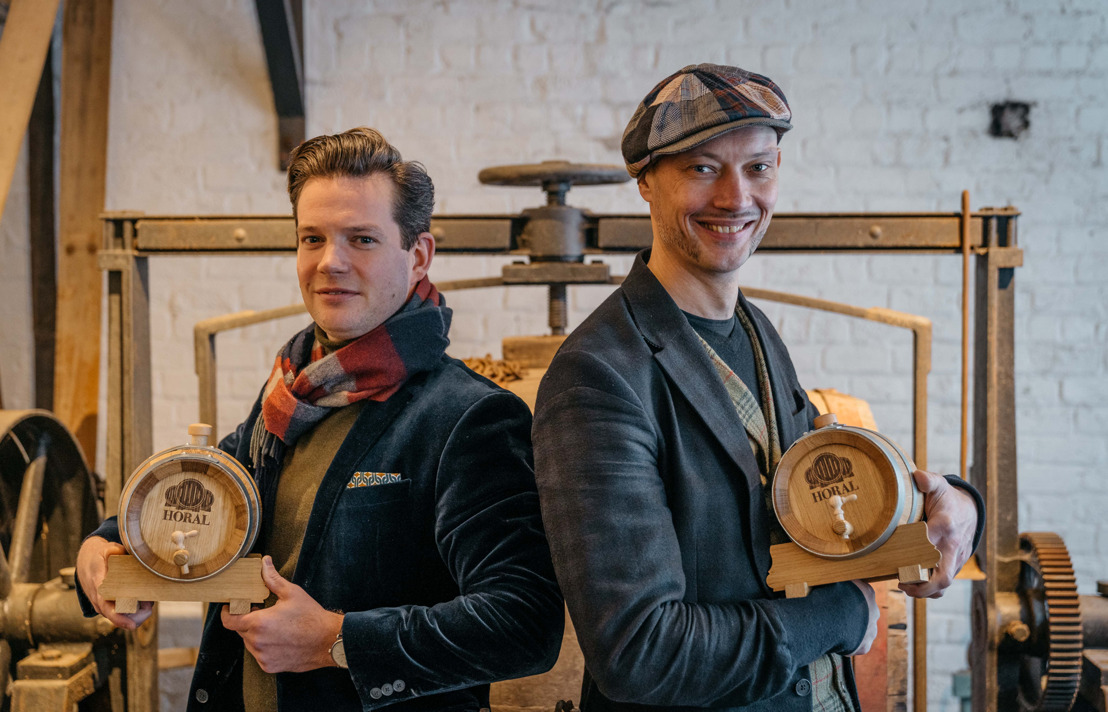 HORAL awards Lambic Award to sommeliers Andy De Brouwer and Yanick Dehandschutter
Thursday, December 17, 2020 — The High Council for Artisanal Lambic Beers (HORAL) awarded this year's Lambic Award to Andy De Brouwer (45) from restaurant Les Eleveurs in Halle and Yanick Dehandschutter (33) from restaurant Sir Kwinten in Lennik. The Lambic Award is presented to people who have made a special contribution to defending the interests of traditional lambic beers and promoting Oude Geuze and Oude Kriek. HORAL chairman Gert Christiaens: "As classically trained wine sommeliers and restaurant owners, they have played an important role in putting Oude Geuze and Oude Kriek on the menu and the map in the gastronomic world."
"Oude Geuze is a unique product that we can be rightly proud of. Gastronomy has changed enormously over the past 10 to 15 years and the fine acids present in Oude Geuze offer substantial added value in contemporary cuisine", says Yanick Dehandschutter, owner-sommelier of the Michelin-star awarded restaurant Sir Kwinten in Lennik.
Andy De Brouwer of restaurant Les Eleveurs in Halle wholeheartedly agrees: "Firstly, people are again interested in traditional products. Secondly, the consumer again likes fresh sour flavours. Thirdly, one is also more open to special products, much more than in the past. The restaurant visitor wants fresh flavours, pleasant acidity and drinks with lower alcohol content. These are general tendencies and Oude Geuze fits that picture perfectly."
Yanick Dehandschutter added: "Oude Geuze can be used throughout the restaurant experience. As an aperitif with matching snacks, as an accompanying drink with a starter or main course and even with cheese. In other words, Oude Geuze is very useful in our field. We notice that the young generation explicitly asks for Oude Geuze. It may be a product that has been around for a long time, but young people are open to these authentic regional products."
Previously, the Lambic Award has been awarded to Edgar Winderickx, Hugo Casaer, Tim Webb, Stene Isacsson, Daisy Claes, Dominiek Geers, the Pajot folk group Arjaun and the Lambic.info team.
The High Council for Artisanal Lambic Beers (HORAL) was founded in 1997. The non-profit organization unites the majority of the lambic breweries and Gueuze blenders of Flemish and Walloon Brabant. Ten producers are members of the High Council: Boon, De Oude Cam, De Troch, Hanssens, Lambiek Fabriek, Lindemans, Mort Subite, Oud Beersel, Tilquin and Timmermans. The main aim of the association is to promote artisanal lambic beers, in particular, Oude Geuze and Oude Kriek. The organization also takes initiatives to protect these beers.
www.horal.be